.... floating pair of gigantic turds that swirl and swirl and swirl around the bowl, going nowhere until they suddenly decide to both go down the pipe together at the same time, smashing together and jamming up and causing the toilet to suddenly stop emptying and begin to fill and fill and fill until you suddenly groan, "Oh Jesus Christ,
NO
!" and then you hear the first drops of water spilling over the toilet lip onto the bathroom floor and then the rush of water as it spills over and splashes just next to your feet, quickly soaking the mat and heading for the wall, and you throw open the cabinet under the sink and you're desperately searching for a plunger, only to find half-empty bottles of mouthwash and extra toilet paper rolls, and you start rehearsing the
spiel
you're going to have to give your host in about ten seconds to try to explain why no one can use the only toilet in his house....
There will be no end-of-the-year lists. There will be no parade of dead celebrities save this one:
from
The Seattle Post-Intelligencer
, Dec. 26:
"John Costelloe, a New York City firefighter-turned-actor who on
The Sopranos
played closeted mobster Vito Spatafore's lover, died of a self-inflicted gunshot wound. [...]
Costelloe, 47, was found dead in his Brooklyn home on Dec. 18. A funeral was held Dec. 22, with
Sopranos
alums Gannascoli and Steve Buscemi (who knew the deceased from their pre-acting days) in attendance."
from
The Sopranos
:
from an unknown, undated personal photo:
The sudden "gay turn" for the Vito Spattafore character was as odd as it was unexpected. Requiring further suspension of disbelief was his liaison with Costelloe's character, nicknamed "Johnny Cakes", who arrived on camera direct from the Castro in the late 70s, with authentic fu manchu pornstache and motorcycle gear. Johnny Cakes, unlike Vito, was delightfully convincing as the 70s clone trapped in rural New England. However, disbelief had to be loaded into a rocket and launched to the far corners of the universe for Vito's excursion into the New York (?) leather scene: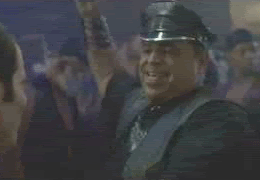 David Chase and the
Sopranos
writers were famous for their sense of humor -- witness the end of the last episode -- and it's true that just about anyone, straight or gay, can look pretty silly in leather, so it's very likely that Chase & Co. were having a good laugh and letting us join in. And okay, this is fiction, but.... Johnny Cakes hooking up with Vito?? Never made sense to me.
Still, the saddest news is the loss of the very gifted Costelloe to suicide, and at such a young age.
But no parade of dead celebrities, despite this year's bumper crop.
"Ashes to ashes, fun to funky, we know Major Tom's a junkie...."
Down the crapper we go.
It's tempting to hope that 2009 simply has to be better than 2008, but frankly I suspect it's going to be much, much worse for many more people. Call me fatalistic.
But enough of that.
Just skimming my friends' Facebook pages, it's certainly a flurry of parties, dances and happenings out there tonight. Doug writes on his page: "Not enough people have asked me: 'How was your Christmas?' and 'What NYE party are you going to?' " Even though I don't go out on New Year's any more and I don't even know whether the event is still going on, I never think of New Year's Eve without thinking of the Rapture parties I used to attend
con mucho gusto
in Vancouver back in my Rage to Live Years. Fond memories of meeting Robbie for the first time, despite the horrific walk back to Doug and Jeff's, literally across the entire downtown of Vancouver in blowing 35-degree rains sometime around 6 am, taxis being
introuvables
by that hour of the morning. Legendary. And here just the other day I got a very nice message from Michel telling me he's in Toronto now. Who knows, perhaps he's still coordinating Rapture in Vancouver; as I said I'm so far removed from all of that now I hesitate to even try to enquire. Most experiences are best left as memories. As the New York Dolls put it, "One day it will please us to remember even this." And so.
That said, I'm only too happy to spend a very frigid and snowy New Year's Eve here at home with Mike and Tom. May we all find the courage and inspiration to help us thrive, or at least survive, the coming year.